Kono atari no dokoka
A question emerges from the artistic relationships between Japanese-Austrian performance-maker Michikazu Matsune, French choreographer Martine Pisani, and Dutch painter and performer Theo Kooijman: What remains of dance once the show's over?
Archives, personal memories, shared anecdotes, and imaginations are all used to trace their activities through the 1980s and 1990s. Kono atari no dokoka (which translates to "Somewhere around here") is a place at once far away and oh so close, with blurry yet familiar contours, a journey through time and space. From a Kobe beach to the port of Marseille, from Paris to Vienna or somewhere else yet, a collective memory starts to appear between the lines of personal stories. With beautifully simple poetry, humour and, above all, tenderness, their performance reconstructs what's left of the past to form a composite present.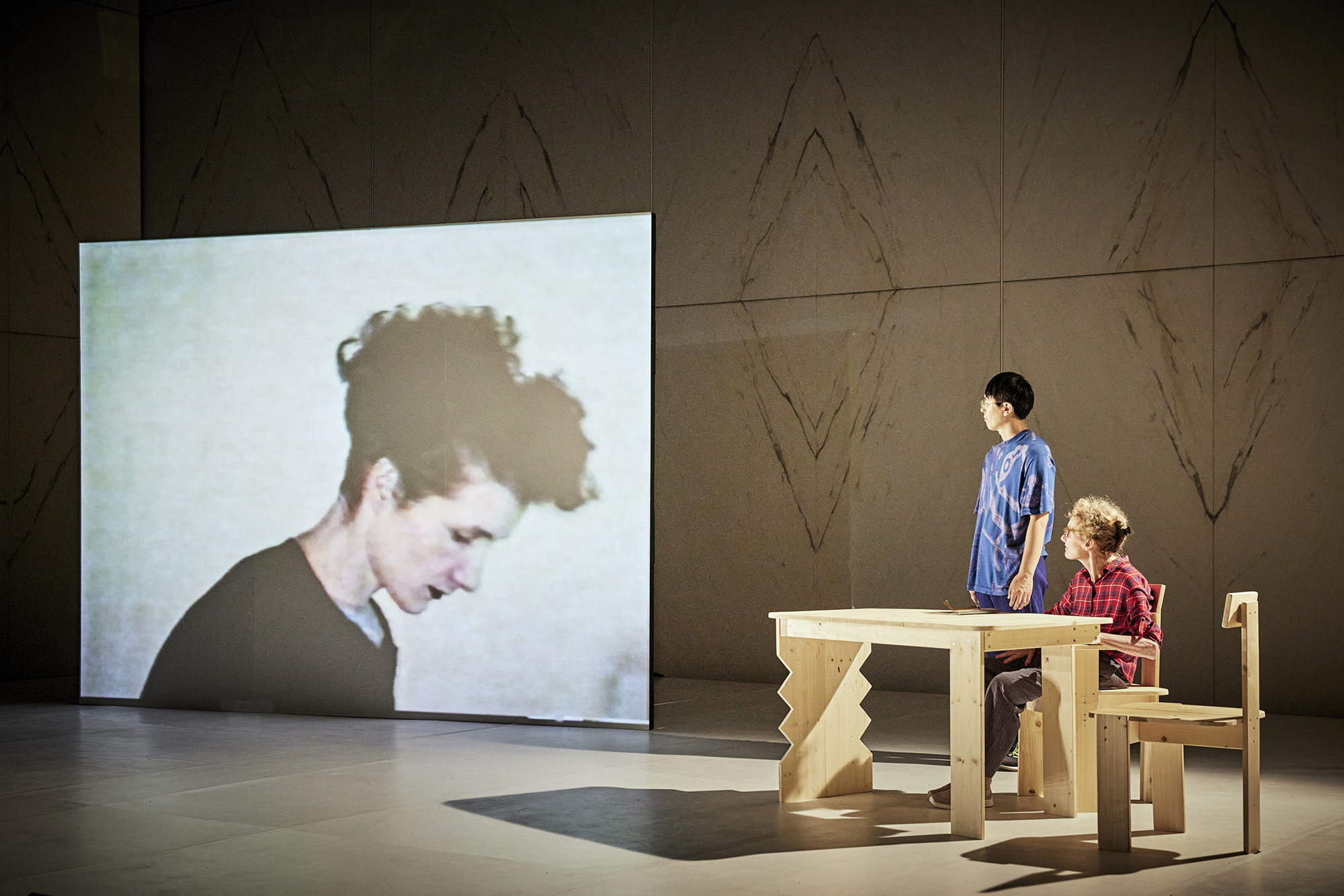 Stage performance
In English, French and Japanese
75min

Concept: Michikazu Matsune in dialogue with Martine Pisani
Based on the early works by Martine Pisani

Performance: Theo Kooijman, Michikazu Matsune, Martine Pisani
Light: Ludovic Rivière
Video: Michikazu Matsune, Maximillian Pramatarov, Anne Lenglet
Artistic feedback: Miwa Negoro, Ludovic Rivière, Anne Lenglet
Translation, proofreading: Marion Schwartz, Brian Haman
Publication concept: Michikazu Matsune, Miwa Negoro
Publication design: Aki Namba
Management: Franziska Zaida Schrammel, Frauke Niemann

A production by Studio Matsune, La compagnie du solitaire
Coproduced by Festival d'Avignon, Tanzquartier Vienna, Maison de la Culture d'Amiens, fabrik Potsdam, SPRING Performing Arts Festival Utrecht
Supported by La Briqueterie Centre de développement chorégraphique national, Les Laboratoires d'Aubervilliers, Centre national de la danse (Pantin)
Funded by the Ministère de la Culture Drac Île-de- France, Department of Cultural Affairs of Vienna (Austria), Ministry of Arts, Culture, Civil Service and Sports of Austria, Austrian Cultural Forum Paris, Fond Transfabrik (France, Germany) and Onda - The French office for contemporary performing arts circulation

Premiere at Festival d'Avignon 2023
Photo: Christophe Raynaud de Lage (1-4,7,8), Fabrice Robin (5,6)